"It feels good! I'm very excited and didn't really think our team could win the challenge because this was our first attempt at a major competition." Those were the words of 19-year old Eric Mujjona on learning that Trackmed, a digital solution whose development he led, had emerged best at the Health Supply Chain Solutions Challenge; an initiative of Management Sciences for Health (MSH) under the USAID Uganda Strengthening Supply Chain Systems (SSCS) Activity and UNFPA Uganda.
Trackmed provides real time data on deliveries of medical supplies from the time they leave the warehouse to when they are received by the end user.
In May 2021, UNFPA and Management Science for Health (MSH) signed a Memorandum of Understanding (MoU), pledging to work together to strengthen the national supply chain for essential medicines, including reproductive health commodities. One of the initiatives therein was Uganda's first ever Health Supply Chain Solutions Challenge, under which innovators were asked to submit ideas to help improve access to affordable essential medicines and health supplies including reproductive health supplies.
From 136 submissions received, ten promising innovations were selected and two of which merged thus 9 innovations made it to the final. The developers then spent three days at a boot camp during which time they received support from MSH, UNFPA and Outbox, a leading Innovation hub, to refine their ideas.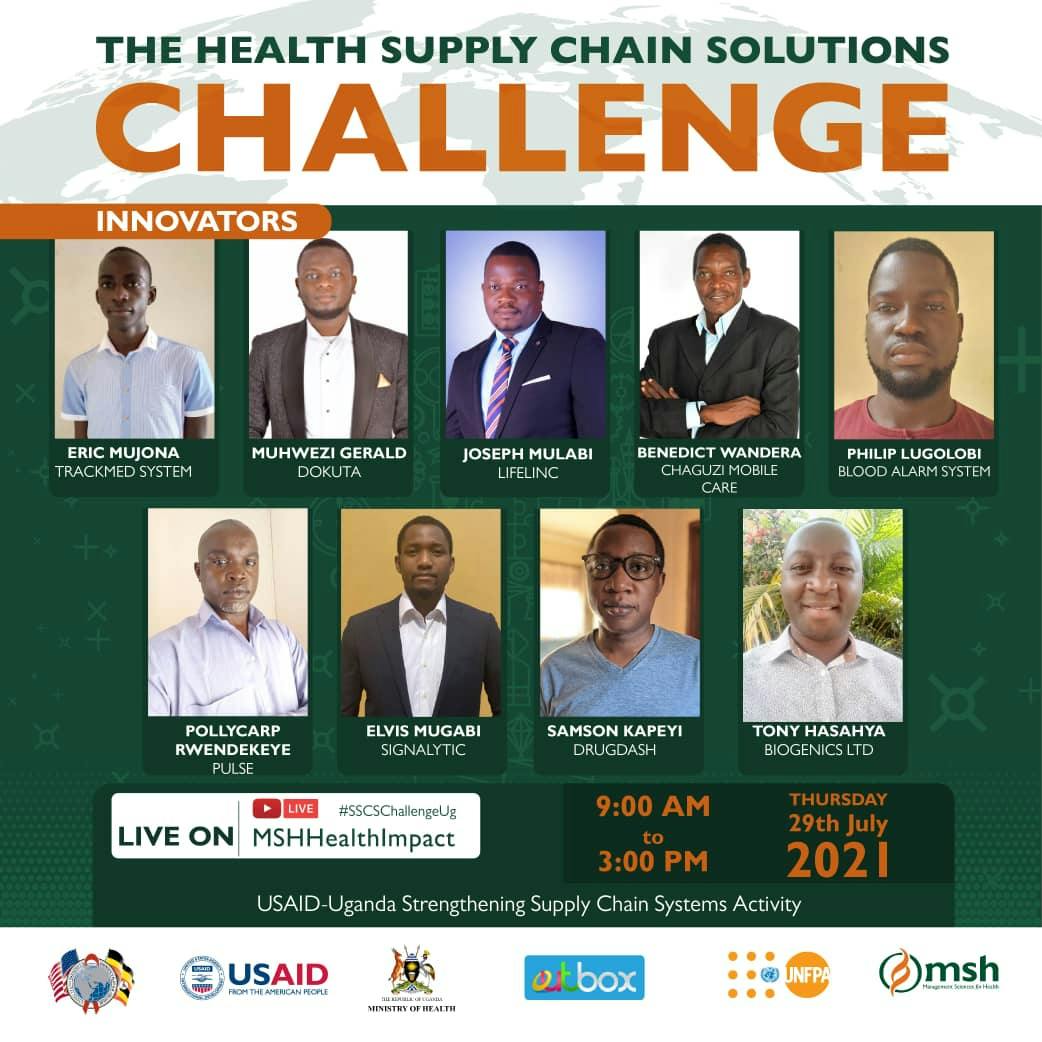 On July 29 in Kampala, Mujjona and nine other developers pitched their refined ideas to a panel of judges that included UNFPA's Programme Specialist Family Planning, Dr. Moses Walakira; Dr. Neville Oteba, Commissioner, Ministry of Health; Denis Kibira from HEPS Uganda; Mr. Paul Mbaka, Assistant Commissioner Ministry of Health; Dr. Eric Lugada, Chief of Party, USAID/Uganda SSCS Activity; Martin Oteba Deputy Chief of Party, USAID/Uganda SSCS Activity; Dr.  Noah Kafumbe Senior Supply Chain Systems Advisor; Mr. Moses Okidi, Director Supply Chains, USAID/Uganda SSCS Activity and Ms. Grace Ssali Kiwanuka, Uganda Healthcare Federation. The judges, according to Dr. Walakira, were looking for solutions that can boost system-wide performance and maximise health supply chain efficiency at the national, district and community levels; strengthen supply chains to address the health needs of women and youth and simplify the collection, reporting, and use of data to support decision making.                                                                                                                               
After about four hours of presentations, Trackmed was declared the winner. Four other solutions; Signalytics, Biogenics, DrugDash and Blood Alarm System were also recognized. The winning teams each received plaques from Dr. Neville Oteba the Commissioner, Ministry of Health Department of Pharmaceuticals and Natural medicines.  Also in attendance was the Director General of Health Services, Dr. Henry Mwebesa.
While representing the UNFPA Country Representative, Edison Muhwezi the UNFPA Assistant Representative noted that the collaboration of UNFPA, MSH and Outbox will leverage each other's strengths to map and engage various stakeholders in the public and private sector to improve the health supply chain in Uganda and advance Uganda's National Medicines Policy (NMP) agenda in increasing the availability, accessibility and affordability of essential health commodities and pharmaceutical services.
"As UNFPA it is important to facilitate a mechanism where we bring young people together to find solutions to explore new and engaging ways to improve the supply chain for reproductive health commodities while promoting social entrepreneurship" he further adds.
Mujoma is not a stranger to developing solutions to address various challenges, having been a developer for about five years and developing his first Hello World programme, (the first programme written by people learning to code), while in year two of secondary school.  "My team was inspired to develop Trackmed to address gaps within the supply chain. We wanted to design a cheap, easy to deploy and scalable method of tracking medicine," he says.
Between September and December 2021, UNFPA and its partners will continue to provide business training, mentorship, technical assistance and financial support to the top three teams to enable them scale up and pilot their solutions.
Click here for more info: https://uganda.unfpa.org/en/news/youth-potential-play-teenager-leads-team-win-unfpa-health-supply-chain-innovation-challenge