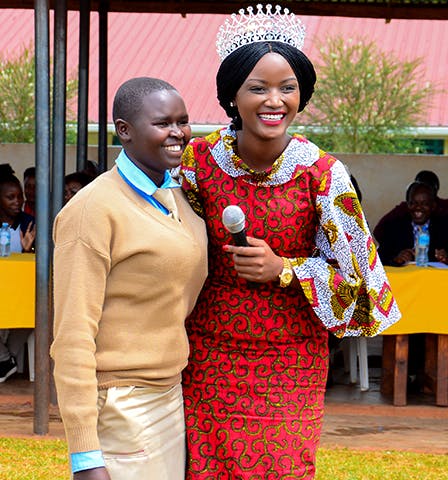 Miss Uganda Foundation has been instrumental in creating awareness of the need for education, sexuality, sexual reproductive health of the Girl child and entrepreneurship development of the young mothers in Uganda. This is done in partnership with organizations such as UNFPA, Reach a Hand Uganda, other NGOs and Government of Uganda to achieve their objectives.
Through, its mentorship program miss Uganda is determined to develop independent young mother/women entrepreneurs. The Foundation targets young women and young mothers whom they skill and empower in various fields.
"I want to be remembered for championing girl's rights" says Quiin Abenakyo, Miss Uganda 2018/19
During the boot camp for the Miss Uganda pageant Quiin and other contestants came face to face with teenage pregnancy encounters.  "I met young pregnant girls; this opened my eyes to the seriousness of this issue. I think the problem of teenage pregnancy is actually bigger on the ground than what is presented in the statistics" she said in an interview.
The Miss Uganda Foundation creates a platform for its reigning Miss Uganda queens to create awareness about sexual reproductive health, teenage pregnancy and child marriage. The beauty queens go to schools and talk to young people about teenage pregnancy, child marriage and the importance of staying in school.
As the first Miss Uganda queen to soar in the Miss World beauty ranks, Quiin is very passionate about voicing issues of girls and transforming lives of young people (especially girls) as part of her work with the foundation. Her message to all girls out there is that they should know their story. "If you know your story you know the right path to take. They should not try to live like the people they see on social media because people only reveal a very small portion of their actual life on social media. Young people should also use their talents well and find a way of getting where they want to be. They should also use every opportunity around them, make the right friends and have the right role models to look up to" she advises.
Among its various social change initiatives, Miss Uganda Foundation focuses on sensitizing to keep a girl child in school at a community level, HIV/AIDS prevention among girls and advocacy for the girl child.