Hillary is a fun outgoing, believer in Christ and in his calling which is art.  I believe I was born to be a creative, an artist. Before I started out I always asked myself, "How do I change the narrative?" because during our career guidance days, we were raised to think that successful careers were doctors, lawyers, accountants, engineers and the like. They told us that art was a hobby and not a career. Slowly I am changing that, when children see my work they too aspire to be creative artists.
My journey as an artist started a while back when a couple of my friends and I created Blush Media. However, I quit because I believe everything has a timeline and I needed solely focus and become a master at my art. My childhood dream and calling came to fulfillment when I saw the impact and move my work had, I knew this was it, this is what I was called to do.  My work evokes emotion and conversation. Before I did art just for me but this has changed since I witnessed its impact on the community.
I chose to do Vector Art because the world is evolving, everything is going digital. So I thought, why not use a computer to create art. Vector art can be blown to infinity and reproduced which is not the case with canvas art. You can even put vector art on floor tiles and the quality would still be alright. An example is when you enter Gems International School, my work is on their walls and the quality is still maintained. Being a vetor artist also sets me apart because its a unique art and I believe I am the only one doing it in Uganda, if not Africa, which makes me proud.
Some of the projects I am most proud of include the art I did for the Kabaka's celebration of Jubileewo. I have also done art of Mr Eazi and Yvonne Chaka Chaka, Gems International School, UAP Insurance company, the Ugandan Embassy in Tanzania, for different restaurants, among others. I also do charity with my work. I have done art pieces that were auctioned and the money was used to buy library books for these orphans.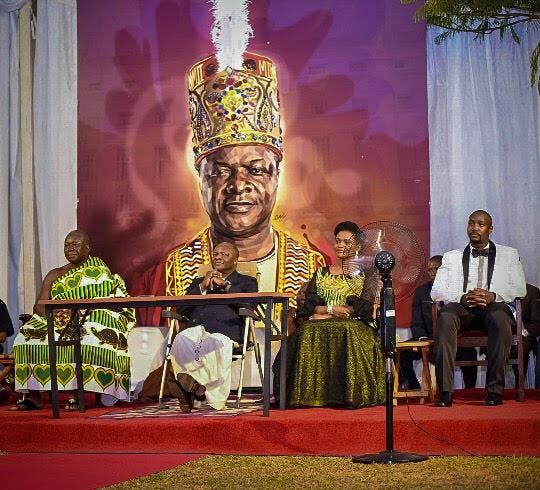 I am a self taught artist although I keep learning everyday even when I don't have orders I work on projects to learn. People can show you how to do it but not how to be creative and all my art pieces have a touch of their own. I have been doing vector art for over 10 years, when you see my first work you will see a lot of growth. In this way I have come to appreciate that it's not about how much I am going to get off a project, but that can people find inspiration and motivation in my pieces?
My dream is to be a celebrated artist; to inspire, change the world through art. To brand airports starting with Entebbe Airport, brand the city, beautify the children's wing in Mulago Hospital, inspire 10 more Hillarys that can also inspire 10 others. I also want to build a creative school and rehab center because mental health is key and if I can use my gift as an avenue for change and happiness, why not. Lastly, I want to be awarded a nobel peace prize.
Most of the challenges I have faced have been financial; in terms of printing, people are not willing to pay but I am also learning that everyone has their clientele.
My advice to other young people is that when given a chance to inspire or mentor another person, do it so they can be the best versions of what you can be, dreams are killed because people don't want others to be better than them. The easiest way to influence one's life is through your social media platforms. What do you put on your statuses? Use these platforms to inspire the world positively.